The best toothpaste should contain fluoride to fight cavities — other ingredients depend on your teeth. After speaking with dentists about common oral hygiene issues, digging into existing research, and brushing our teeth til they glowed, we found top picks in four categories: general purpose, whitening, sensitive, and natural toothpaste.
Best General Use Toothpaste
A multi-purpose toothpaste good for those with no specific dental issues. Clinically proven to prevent and reduce cavities, gingivitis, plaque, and bad breath, and sensitivity.
Best Toothpaste for Sensitive Teeth
Sensodyne ProNamel Fresh Breath Toothpaste
The least abrasive of all the toothpastes we tested, with 5 percent potassium nitrate to reduce pain while brushing.
Best Whitening Toothpaste
The Best Toothpastes
Our top pick for a daily general-use toothpaste is Crest Pro-Health Original Flavor Toothpaste in Clean Mint. Crest Pro-Health is the only line of toothpaste we found that uses stannous fluoride, rather than the more common sodium fluoride. In addition to stopping cavities, stannous fluoride doubles as an antibacterial agent, allowing Crest Pro-Health to target plaque, gingivitis, and bad breath on top of tooth decay. The product also whitens your teeth, prevents sensitivity, and has verification from the ADA to back up all of its claims. It was the most genuinely multi-purpose toothpaste we could find.
Wondering whether you really need all that? If so, we'd suggest checking out our two general use runners-up, Benco Dental PRO-SYS Mint Flavored Fluoride Toothgel and Colgate Cavity Protection. Both rely on sodium fluoride to offer cavity protection and nothing else — and some of our dental experts suggest this is all you really need. Colgate has a very mild mint flavor and lots of froth, while Benco PRO-SYS is a pleasant, spearmint-flavored gel.
Our pick for sensitive teeth is Sensodyne ProNamel Fresh Breath Toothpaste. It was the least abrasive of all the toothpastes we tested — gentle enough for teeth with thin layers of enamel — and contains 5 percent potassium nitrate to numb your mouth. It does have a strong peppermint flavor, so some of our testers preferred Colgate Sensitive Prevent & Repair Toothpaste, a runner-up that's slightly more abrasive but less minty.
Whitening toothpastes have limited powers: they can remove surface-level stains but won't help much if you're worried about general yellowing. With that caveat in mind,Tom's of Maine Simply White Natural Fluoride Toothpaste in Sweet Mint stood out as our favorite, with a high level of abrasiveness to remove surface stains, but a surprisingly smooth, non-gritty texture. Unlike many "whitening" toothpastes, its claims have also been vetted by the ADA. It edged out runner-up Crest Pro-Health Extra Whitening Power Toothpaste by a hair: Crest works similarly, but was more polarizing among testers thanks to an extremely gritty texture.
For a natural pick, we'd suggest The Natural Dentist Healthy Teeth & Gums Anti-Cavity Toothpaste in Peppermint Twist. It does contain fluoride, per the advice of every dental expert we consulted, but it's free of sodium lauryl sulfate, which can cause canker sores, as well as artificial dyes and sweeteners.
How We Picked the Best Toothpastes
If you've ever stood dazedly in the toothpaste aisle, you know there are hundreds of toothpastes on the market. We started with almost 200 options, all of which were readily available at drugstores like Walgreens and CVS, or via major online retailers like Amazon.
From here, we reviewed literature from the FDA and the American Dental Association (ADA), then talked to several dentists. We wanted to figure out which ingredients were actually necessary and which were just a marketing ploy.
It's all about fluoride.
Every single dental expert we spoke with told us that fluoride was the one must-have. Unless your dentist specifically tells you otherwise (a handful of people do have fluoride allergies), you need to brush with it to maintain healthy teeth.
Fluoride works by strengthening your tooth enamel (the outside layer of the tooth) so that it can resist bacteria. It also remineralizes, patching up microscopic holes in your enamel that are caused by bacteria from food. And there's an overwhelming amount of clinical evidence that it reduces both cavities and gum disease. The American Dental Association won't award their Seal of Acceptance to any toothpastes without it.
Fluoride controversy does exist, but much of it centers around adding fluoride to our water supply, a practice begun in the 1940s. Too much fluoride can cause dental fluorosis, a non-fatal condition that causes discoloration of the teeth. But unless you're allergic, or eating toothpaste by the bucketful, you're unlikely to have issues.
We avoided triclosan due to its controversy.
Triclosan is an anti-gingivitis ingredient that is effective but comes with baggage. In 2016, it was banned by the FDA from antiseptic hand and body washes because of the concern that long-term use could pose risks like bacterial resistance and damage to the thyroid. However, despite this ban, it's still allowed in toothpaste (namely, Colgate Total). This gave us pause.
Turns out, it's also worrisome to many dental pros. "Triclosan, or any antibacterial ingredient, can negatively affect the balance of your mouth and gut bacteria," says Dr. Louis Siegelman, a dentist and dental anesthesiologist who serves as the assistant director of the Dental Anesthesiology Residency Program at Lutheran Medical Center and clinical assistant professor at NYU College of Dentistry. "I recommend avoiding daily use without any significant benefit or purpose. It is important to respect the gastrointestinal biome and to use careful consideration with any germ-killing ingredients. They can disrupt both good and bad bacteria causing an imbalance of delicate flora."
We had mixed feelings about the ADA Seal of Acceptance.
You've probably seen the little logo on the side of your toothpaste that says "ADA Accepted." This seal is held by toothpastes that have undergone a voluntary vetting process from the American Dental Association, which verifies that the toothpaste is safe for use and will live up to its marketing claims.
"The bar is quite high as far as the criteria that a toothpaste must meet to earn the ADA Seal of Acceptance," said Dr. Edmond Hewlett, professor and associate dean of outreach and diversity at UCLA's School of Dentistry, and spokesperson for the ADA. "In many cases, these criteria exceed the standards that the FDA has set. It all boils down to confirming and validating that the product is safe, and does what it says it's going to do."
But we decided not to limit ourselves to ADA-approved products. Anti-cavity toothpastes are already required to meet FDA standards for safety and efficacy, and when we spoke with the ADA, they weren't transparent about how many applications they actually accepted or rejected in any given year. In other words, we couldn't tell how rigorous the vetting process really was.
That's not to say the ADA seal is useless. If you're evaluating two otherwise-equal options, consider the ADA seal a tiebreaker. "To me, the ADA seal of acceptance is important in helping patients navigate the many dental products currently available," says Dr. Samantha Sacchetti of Village Dental in Kenilworth, IL.
And we learned that no single toothpaste is right for everyone.
Teeth whitening, enamel strengthening, breath freshening: Do you need a toothpaste with extras?
Registered Dental Hygienist Anastasia Turchetta recommends relying on your dentist or hygienist to steer you toward the right pick. "I look at the current state of the patient's oral health," she says. "Are they at a high, moderate or low caries risk? Is their enamel healthy, with zero white spots (demineralization) or does it show signs of erosion? Are their gums sensitive? Do they have dry mouth? Do they have bad breath?"
But some experts suggest keeping it simple: "I recommend using a basic fluoride toothpaste that does not have all the additives, whitening, and anti-tartar ingredients, especially triclosan. Many of these additives can cause sensitivity or irritation," says cosmetic dentist Dr. Timothy Chase of Smiles.NY in Manhattan.
In other words, there's no one-size-fits all answer. So we divided our remaining contenders into four categories. (Note that while we looked at about 200 products total, we considered some toothpastes for more than one category.)
General use toothpaste
Geared toward people who want to prevent tooth decay and maintain fresh breath but have no specific dental problems, these toothpastes should contain fluoride in any of its three forms: sodium fluoride, stannous fluoride, or sodium monofluorophosphate. After culling toothpastes marketed for specific dental issues, we did a little hand-picking to further narrow our list, removing variants of the same product. (We opted to test Tom's of Maine in peppermint rather than cinnamon-clove, for instance.)
Sensitivity toothpaste
These toothpastes are meant to help people with sensitive teeth avoid pain and discomfort when brushing. To work, they should contain fluoride in any of its three forms, plus 5 percent potassium nitrate, which numbs your nerve endings as you brush. We nixed products marketed for both sensitivity and whitening since "whitening" toothpastes are often grittier than regular products and can increase sensitivity.
Whitening toothpaste
For smokers and frequent drinkers of coffee, tea, or red wine, these products can help remove surface-level stains. In addition to fluoride, whitening toothpastes should have some form of abrasive, like hydrated silica. But it's important to note that many "teeth whitening" toothpastes have ingredients that are basically useless — like doses of hydrogen peroxide too low to have an effect. So for this category, we looked only at whitening toothpastes whose claims had been approved by the ADA. And even so, this only means the toothpaste will help remove surface stains. It won't do anything to fight general yellowing.
Natural toothpaste
While the term "natural" isn't regulated by the FDA or ADA, some consumers are concerned about unnecessary additives, like sodium lauryl sulfate — which is used to make toothpaste foamy but can cause canker sores — or artificial dyes, some of which are controversial. So for this pick, we looked for toothpastes with as few artificial ingredients as possible. (But note that even our natural pick contains fluoride — we weren't comfortable recommending any product that didn't actively prevent tooth decay.)
We brushed our teeth 'til they glowed.
We got up close and personal with each of our 18 finalists, brushing our teeth with each toothpaste for two minutes per ADA guidelines and clearing our palates between brushing with a cup of coffee or some crackers. While we couldn't judge the long-term effectiveness of the toothpastes, we could pay close attention to the brushing experience.
How did the toothpaste taste? Flavor is a personal preference, but Aim Multi-Benefit toothpaste had chalky undertones that left us eager to rinse our mouths, and we didn't like the bitterness of Hello Toothpaste Super Mint.
How foamy was it? We practically needed bibs for a few contenders, like Colgate's Cavity Protection toothpaste and Aquafresh Extreme Clean Pure Breath Action Toothpaste. We preferred the slight froth of Tom's of Maine.
How did our teeth feel after? Clean, yes, but Hello Super Mint toothpaste also left our mouths feeling slippery, like there was a very thin slick of oil on our teeth.
Was the packaging well-designed? All 18 toothpastes were in the familiar tube, but there were a few surprises: Benco Dental PRO-SYS Mint Flavored Fluoride Toothgel was designed to stand upright, which seemed great for getting every last drop of toothpaste out. The Crest Pro-Health line had a flip-cap, which we liked in theory — but the toothpaste was so soft that it glopped out of the tube and onto the counter every time we flipped open the cap.
We weren't totally turned off by any of our 18 finalists — all of them ultimately got our teeth clean — but our top picks edged the others out by a hair, offering a slightly more enjoyable brushing experience.
Our Picks for the Best Toothpaste
Best General Use Toothpaste
We were initially skeptical of Crest Pro-Health's claim to prevent tooth decay, gingivitis, plaque, bad breath and sensitivity — all while whitening your teeth. But this product received the ADA Seal of Acceptance in all six areas, which means it's got research to back it up. And after digging into that research, we were impressed.
Crest Pro-Health's efficacy is partly explained by the product's use of stannous fluoride rather than sodium fluoride. Both types protect equally against cavities, but stannous also has antibacterial properties, which allows Crest Pro-Health to fight gingivitis and plaque — which are caused by bacteria building up in your mouth. Crest Pro-Health was the only toothpaste we tested that used stannous fluoride.
So why don't more companies jump on the bandwagon? In theory, stannous fluoride doesn't taste as good as sodium fluoride. Sodium fluoride is also cheaper to produce. And stannous earned a bad reputation when it was first introduced due to the fact that it caused temporary staining (think white blotches) on the teeth of a handful of users. But newer formulations seem to eliminate this drawback. "Stannous got a bad rap in the early 2000s for its staining," says Turchetta. "Today it's a force to reckon with for those who are taking control of their oral health."
What changed? When the Pro-Health line was introduced in 2005, Crest introduced a new stabilized stannous fluoride and added a whitening agent called sodium hexametaphosphate. Combined, these two ingredients result in a toothpaste with the extra antibacterial benefits of stannous fluoride, but without the risk of staining.
"I've recently discovered a new love for stannous fluoride. Recent tech has gifted us with the ability to have stannous benefits without staining. Stannous has antibacterial properties, it helps rebuild enamel, and it also helps with sensitivity."
We also couldn't detect any taste difference between Crest Pro-Health and products containing sodium fluoride. In fact, we found Arm & Hammer Dental Care Advance Cleaning Daily Fluoride Toothpaste with Baking Soda more bitter than Crest Pro-Health. We ran our tests with Crest's Clean Mint formulation, a spearmint that was middle-of-the-road: not too strong, not too mild. "Great flavor," one tester reported.
We were less enthusiastic about the slight grittiness of Crest Pro-Health. Crest's website calls the particles in their toothpaste "ActivClean crystals," but you'll see them on the ingredient list under "sodium hexametaphosphate." These serve as an anti-staining and tartar prevention ingredient, but if you prefer a smoother brushing experience, you might want to check out one of our runners-up. The gel itself is also quite soft and tended to drip when we opened the cap. But if you want a toothpaste that does it all, Crest Pro-Health is the most comprehensive option. One 5-ounce tube is about $5.
No-Frills Runners-up
If you're looking for a general use toothpaste that protects against cavities — and nothing else — we were impressed by Benco Dental PRO-SYS Mint Flavored Fluoride Toothgel. It's a nice spearmint-y gel that left no bitterness or aftertaste during testing and is less gritty than Crest Pro-Health. We also appreciated the tube design: PRO-SYS stands upright, which means it won't require rolling as it empties. At a little over $1 for 4 ounces, it was one of the cheapest options that we tested. And with sodium fluoride as an active ingredient, it will do exactly what it claims: prevent and reduce tooth decay.
Colgate Cavity Protection Toothpaste is another excellent no-frills option, especially if you don't like strong flavor. It's a mild spearmint paste — so mild that its flavor faded before our testers finished brushing — and it's also notably foamier than both Benco PRO-SYS and Crest Pro-Health. This toothpaste relies on fluoride in the form of sodium monofluorophosphate to protect against tooth decay, and while it's a few cents more expensive than PRO-SYS, it's also a more recognizable name brand and may be easier to spot on the grocery store shelf.
Best for Sensitive Teeth
If you have sensitive teeth and gums and aren't afraid of bold flavor, we highly recommend Sensodyne's ProNamel Fresh Breath toothpaste.
Like most sensitivity toothpastes, it contains five percent potassium nitrate, a chemical compound that protects and desensitizes nerve fibers in the mouth. If you experience discomfort while brushing, or when eating hot or cold foods, ProNamel will bring temporary relief. It also has a strong peppermint flavor that left our mouths feeling fresh.
Sensitive toothpastes are typically less abrasive than other toothpastes, which makes sense: using a lot of grit on sensitive teeth is like rubbing sand into an open wound. Ouch. And there's actually a technical way to measure a toothpaste's grittiness: Relative Dentin Abrasivity, or RDA. The ADA says that anything with an RDA of less than 250 won't damage your teeth. But for sensitive teeth, most dental experts recommend an RDA under 100. ProNamel's RDA is 34, one of the lowest we found.
How abrasive is your toothpaste?You can Google "RDA toothpaste" and find a number of charts that list the RDAs for common toothpaste brands. Crest Pro Health, our top pick, has an RDA of 150.
As an added precaution, Sensodyne ProNamel is also free of sodium lauryl sulfate (SLS). For most people, SLS merely serves to create foam as you brush, but it can sometimes cause canker sores. Skipping the SLS ensures that Sensodyne ProNamel is as gentle as possible on your mouth. The tradeoff is that it's also less frothy than standard options like Colgate Cavity Protection. Testers still noted bubbles as they brushed — just not as many.
ProNamel is a little pricier than many of our contenders, with a 4-ounce tube retailing for about five dollars. Colgate Prevent & Repair, by comparison, comes in a 6-ounce tube for $4.
Sensitivity Runner-up: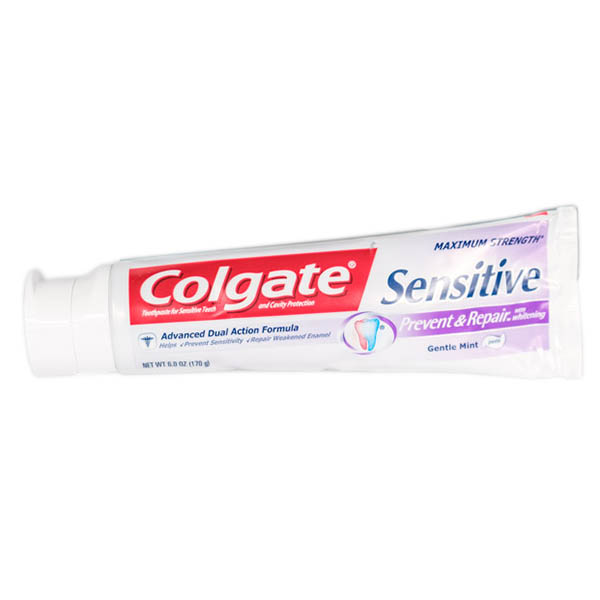 Some of our testers found Sensodyne's minty flavor too strong, to the point that it stung their mouths. If you prefer a milder flavor, we'd suggest giving Colgate Sensitive Prevent & Repair toothpaste a try. Like Sensodyne, it contains five percent potassium nitrate. Its RDA rating is 63, which means it's slightly more abrasive, but this difference wasn't noticeable when we brushed with it. Even our testers with sensitive teeth reported no pain.
We also considered Tom's of Maine Natural Maximum Strength Sensitive, but it carried a warning that it shouldn't be used for longer than four weeks without a doctor's recommendation — unlike Sensodyne, which is expressly marketed as a "daily fluoride toothpaste." Tom's of Maine does have the same active ingredients as Sensodyne, so the warning might be just a precaution. If you're looking for a Sensodyne alternative, it's worth running past your dentist.
Best Whitening Toothpaste
The truth is, toothpaste really can't whiten teeth; that takes a dedicated teeth whitening product containing hydrogen or carbamide peroxide, which gets past enamel and works on your teeth's underlying dentin. Some whitening toothpastes do contain a small amount of peroxide, but it stays in your mouth for such a short period of time that its benefits are negligible. What a whitening toothpaste can do is remove surface stains from food like coffee and red wine by upping its percentage of abrasives.
For this category, we liked Tom's of Maine Simply White Natural Fluoride toothpaste. It doesn't have any harsh bleaching chemicals, instead using hydrated silica to give teeth a gentle scrubbing. It has also earned the ADA Seal of Acceptance, indicating that it is effective at both preventing tooth decay and making teeth appear whiter.
Hydrated silica is the first ingredient on the list after fluoride, unlike runner-up Crest Pro-Health Extra Whitening Power, which features hydrated silica slightly lower down. We were pleasantly surprised by the consistency of Tom's, which was smooth and free of grit. Testers did note a very faint bitterness but said "it wasn't bad," and they liked the mild froth produced by brushing.
Tom's also boasts a refreshingly short ingredient list, lacking both artificial dyes and flavors (though it does contain SLS). We were a little confused by the packaging, which features a vanilla flower despite no discernible vanilla in the product. But we liked the very mild, minty flavor, though it dissipated quickly. $4 for 4.7 ounces.
Whitening Runner-up:
We also tested and liked Crest Pro-Health Extra Whitening Power. It is notably grittier than Tom's of Maine, with one tester reporting, "you could sort of chew it and feel the grit." Some of our testers liked this, and some didn't, but the product definitely left our teeth feeling scrubbed. $3 for 7 ounces.
Best Natural Toothpaste
The term "natural" isn't regulated by the FDA, which means it's often used as a marketing gimmick (a lesson we learned when we tested natural deodorants). So for natural toothpaste, we developed our own criteria: it still had to have fluoride, but we wanted a product free of sodium lauryl sulfate (SLS) and artificial dyes, with as few artificial flavors and sweeteners as possible.
The Natural Dentist was a winner on all fronts. The only coloring agent it contains is titanium dioxide, a naturally occurring pigment used to give the paste its white color (a pleasant change from the "blue 1" and "red 30" of brands like Aquafresh). It's also free of artificial sweeteners, flavored instead with a combination of sorbitol and xylitol — naturally occurring sugar alcohols — plus natural flavor.
Testers did find the flavor unusual. It's described as "Peppermint Twist," but we were met with a strong burst of anise when we began to brush and could barely detect any peppermint at all. The flavor also faded quickly, though our mouths ultimately felt fresh, with one tester noting that her "tongue felt cleaner" than with any of the other toothpaste she'd tested. The Natural Dentist had no discernible aftertaste, unlike runner-up Biotene, which had a faint bitter flavor that lingered.
Though it doesn't carry the ADA Seal of Acceptance, The Natural Dentist does contain fluoride (sodium fluoride, in this case), so you'll be getting the full benefits of cavity protection. It also contains a number of natural ingredients like aloe leaf juice and echinacea extract, which have anti-inflammatory properties. We couldn't find any research about the benefits of these ingredients in toothpaste specifically, but they certainly don't hurt. A 5-ounce tube retails for about $5.
If you want to explore your options, Biotene Fluoride Toothpaste Fresh Mint Original and CloSYS Sulfate-Free Fluoride Toothpaste Mild Mint are also worth considering. Neither contains extras like aloe or echinacea, but both avoid SLS and artificial dyes. They do contain "flavor" on the ingredient list, along with sucralose, an artificial sweetener, and they're slightly more expensive: Biotene is $8 for a 4.3-ounce tube, and CloSYS is $11 for 7 ounces.
Did You Know?
Some foods might be good for your teeth.
Everyone knows that to keep your teeth in good shape, you should avoid candy. But some foods might actively help your teeth. According to the University of Rochester Medical Center, dairy products like cheese and milk stimulate saliva. Saliva is your body's own cavity fighter, attacking the acids and enzymes that damage your teeth. As an added bonus, the calcium and phosphates in dairy products help replace minerals in your teeth that the enzymes have been eating. So from a dental point of view, at least, extra cheese on those nachos is a good thing.
Here's how to decode your toothpaste ingredient list.
Beyond fluoride, the ingredient list on your average tube may look like gobbledegook, but there are really only a few common ingredient categories. Knowing what they are can make shopping for toothpaste a little less intimidating:
Abrasives: These are tiny particles that help scrub away food and plaque. They include substances like hydrated silica, alumina, and mica and generally make up about 50 percent of a toothpaste.
Humectants: These substances retain water and keep toothpaste from hardening. Examples include aloe barbadensis gel, pentylene glycol, and PEG-8 (polyethylene glycol).
Surfactants: Surfactants are the detergent-like substances that make your toothpaste pleasantly frothy. You'll find them listed in the ingredients under names like cocamidopropyl betaine, sodium lauryl sarcosinate, and sodium lauryl sulfate.
Thickeners and stabilizers: Ingredients like carrageenan, disodium phosphate, and xanthan gum help promote proper consistency of your favorite paste or gel.
Make sure to brush correctly.
Most people rush through their brushing routine. Two minutes, the amount of time the ADA recommends you should spend, seems like an awfully long time when you're also squinting in the bathroom mirror wondering how to get rid of advanced bed head. The ADA offers these tips for effective brushing:
Two minutes, twice a day.
Unless your dentist tells you otherwise, use a soft-bristled brush.
Use a back-and-forth rather than an up-and-down motion on exterior surfaces.
To tackle inside surfaces, hold your brush vertically and use short up-and-down sweeps.
Brush your tongue to remove bacteria.
Replace your toothbrush every 3-4 months.
The Best Toothpaste: Summed-Up
Take Action
Although toothpaste manufacturers may tweak their recipes to provide added functions such as whitening or pain reduction, it all comes back to one basic ingredient: fluoride. If you choose a toothpaste with fluoride, and use it regularly and as directed, you'll be doing the single most important thing to maintain excellent oral health.
Don't forget that regular dentist visits are also important — even more so if you're dealing with persistent pain or bad breath that toothpaste just doesn't seem to help. Dr. Hewlett, of the UCLA School of Dentistry, reminded us, "We tell people to talk to your dentist, who is a licensed expert, and with whom you have a relationship. You should trust your dentist."